Customer Reviews & Stories for USA Muffler & Brake in Chicago, IL
---
Leave Us a Review
We want to hear about your experience at USA Muffler & Brake.
Click on a logo below to leave us a review on your favorite site. This takes just a few minutes and we appreciate you taking the time to do this.
Customer Reviews & Stories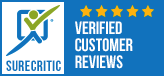 "Joe and Bill are amazing! Joe met with us and explained all of our options and gave us valuable advice. We were well informed while they attended to our vehicle. Bill did a wonderful job replacing the engine and brake lines in our vehicle, he performed a safety inspection, and was able to relay any issues we need to attend to in the near future. Thank you gentlemen. We will be definitely be referring all of our friends to your business. "
- Yelp User
"These guys are the best. Fair prices. Totally straightforward and honest. Exactly what you want in s mechanic. And they'll do anything, not just mufflers and brakes."
- Google User
"I've been coming here for the past 4 years or so after being referred by my friend(10+ year customer), and I couldn't be more pleased with the service. Joe, Ken, and the rest of the team work diligently towards keeping my car in tip top condition.
They're always honest & upfront about what needs to be taken care of a.s.a.p. and later down the line with no pressure. The environment is always pleasant, with a clean waiting facility & great conversation while your car is being maintenenced, which is what really sets this awesome experience high above the rest!
If you're looking for a new auto shop that's reliable, cost efficient, and trustworthy...USA Automotive Services is where it's at!! Thanks, fellas! P.S. Loving the customer appreciation incentives! P.P.S. First time yelper, so that ought to tell you something...!"
- Yelp User
"The staff at USA Muffler are great. They're are friendly and personable. 10 + years; I've known Joe to be a man of integrity. He's consistent, patient and honest with the customers.
Often; we're told take our foreign vehicles to the dealership, because they're only ones who can fix it right. USA Muffler are knowledgeable of all makes and models including your Acura's , BMW's and Mercedes. I have a 2007 Honda Accord.. that's my baby. I'm satisfied with their service."
- Yelp User
"The timeliness of service (from time my vehicle is brought in to the time it is repaired), quality of work done, friendlines and honesty in appraising the work to be done and final billing."
- Sure Critic User
"USA Muffler & Brake has a great group of professionals who are honest and fair! I felt secure with their work and this is where I will always take my car for what it needs! Thanks guys!"
- Google User
"HIGHLY RECOMMENDED!!! Working with Joe and his crew make you feel like you have a "friend" in the business. They are fair, prompt, honest and will exceed your expectations. We bring our personal and work vehicles to USA Muffler & Brake with confidence. Thanks again Joe!"
- Yelp User
"Son had an issue with heat in the car and the car overheating. Joe took a look at it and called us with a detailed list of steps to take care of the problem. I mention this because if you don't follow the recommendations of the mechanic, you can't get mad at the results. Anyway, we took his advice and followed all suggestions and car has worked properly ever since. Joe is really nice too. Thanks guys."
- Yelp User
"Who needs Captain America? I have Joe and the gang at USA Muffler. No problems when they are on the job. No worries. They find a "bad guy" and they take him out. They don't mess around. I always feel safe when I know they are taking care of me and my "Golden Chariot". Love you guys."
- Sure Critic User
"One of the most honest fair shops around. I recommend them to everyone. Polite courteous service and quality work."
- Yelp User
"HIGHLY RECOMMENDED! Fantastic customer service! Totally fair pricing! Knowledgeable staff! Despite the news regarding the extent of my repair, Joe and his awesome team took time to not only explain the repair, but actually show me on the car what needed repairing, why the repair was necessary and what would eventually happen if I didn't get the repair done. Totally professional service. I will not take my vehicles to anyone else."
- Yelp User
"LOVE THESE GUYS!!! They are honest, dependable, and FAST! It's so hard to find good mechanics, but these dudes have won my heart."
- Yelp User